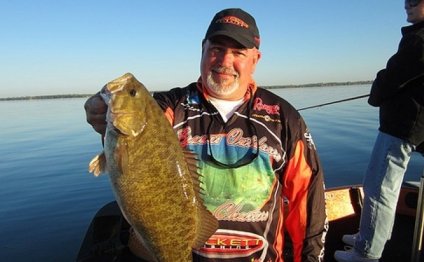 Lake Erie bass Fishing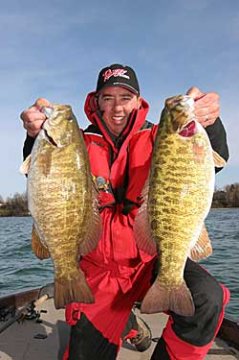 Erie's Early Spring Bronze Hawgs String some fresh line on those reels, hook up the boat and point your vehicle toward Erie. Here's how locals take advantage of the area's incredible smallmouth bass fishery.
By Corky Cramer
You've likely heard chatter about smallmouth bass growth rates in Lake Erie's eastern basin and the big numbers of oversized bronzebacks caught-and-released by anglers each spring. Most of it's true, there are few places on earth where you can catch as many big smallies as here, and it's something you need to experience.
That fabulous springtime smallmouth bite is about to commence. String some fresh line on those reels, hook up the boat and point your vehicle toward Erie, Penn. Here's how locals take advantage of the area's incredible smallmouth bass fishery.
Following a 22-year career in the Air Force, Bryan Stuyvesant returned home to northwest Pennsylvania with a solid background in largemouth bass fishing. While stationed at bases in the West, he had the opportunity to fish California's Clear Lake and the Delta, as well as Texas' Choke Canyon, Amistad and Falcon Lakes.
"After that kind of bassin' experience, I simply didn't see how Pennsylvania bass fishing would be challenging, " says Stuyvesant. "However, friends persuaded me to start fishing Lake Erie for smallmouth. Today I've got a whole new and exciting perspective on bass fishing."
According to Bryan, the big brown bass action starts in early April as smallmouth begin migrating from deep water toward shallower spawning areas. They eventually arrive on the extensive chunk rock and sand flats near shore. More Erie smallmouth move into mouths of major tributary streams or into Presque Isle Bay, the only major bay along Pennsylvania's Erie shoreline.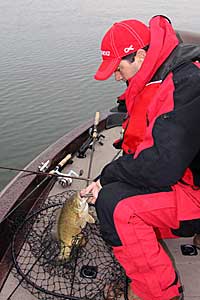 "Protected somewhat from the high winds which sweep the main lake, Presque Isle Bay is where I first make contact with smallmouths each April, " explains Stuyvesant. "I probe humps, points and breaklines at approximately the 18-foot mark, a magic depth for early bass to stage in the Bay. Any day they might be deeper or shallower, but 18 is a good number to start with. When you locate a bunch of bass, either maintain position with the electric motor or carefully lower an anchor to hold position. Likely you will be able to catch a number of bass on repeated casts to the same area."
The fishing approach is a little different on the main lake. Fish in the Bay are schooled and staging deep, but big smallmouth on the main lake are scattered. They'll eventually show up on main shoreline points and breaklines by May. April main lake fishing should be done on the move.
"Trying to find them with the depthfinder is a hit-and-miss proposition. The best tactic is to drift the deep flats at depths from 20 to 35 feet. Be sure to have a good drift sock on board to slow the boat speed down in a stiff breeze – which is usually present on the main lake."
Stuyvesant says when drifting the main lake in April, he routinely catches multiple smallmouth between 4 1/2 and 7 pounds – far better than the average smallmouth in Presque Isle Bay.
This time of year Erie smallmouths have little interest in a lure that is moving fast or swimming high in the water column. Successful presentations slowly bump and grind the bottom. With water temperature in the 40s, Stuyvesant relies on three basic baits: tube jig, blade bait and jigging spoon, although he may fish each of these lures a little different than many anglers.
"My favorite soft plastic for Erie bass is the 4-inch Yum 2ube in any of the browns or green hues, " he said. "I insert a 3/8-ounce football head into the body using a little Yum F-2 Crayfish Scent as a lubricant for the leadhead. I use a 20-lb braid/12-pound fluorocarbon leader for all my early Erie presentations."
The technique of dragging a tube for giant smallies originated at Eire, so it's no surprise that Stuyvesant has refined the art of pulling the tube slowly while maintaining contact with the bottom. Strikes range from typical largemouth "taps" to a sluggish feeling on the end of the line.
A blade bait like the Heddon Sonar is every bit as important to Stuyvesant as the tube jig. While he has experimented with many color patterns including perch and shiner Bryan says his most productive for springtime smallmouth is chrome – although gold is a good backup for roiled water that occurs after storms.
"Cast the blade out, let it find bottom, take up slack and lift it just inches off the bottom until you feel it vibrate. Then sit it back down. Nothing more, " insists Stuyvesant. "That's all it takes for a smallmouth grab it."
Shiny hardware is also on Stuyvesant's third rod in the form of a jigging spoon. He prefers a ½-ounce C.C. Spoon in silver, but goes to a ¾-ounce model when fishing deep water in a chop. He attaches the spoon to his line with a quality snap-swivel to cut down on line twist, but it's how he fishes the spoon which mystifies many anglers.
"In the cold water Erie smallmouth will pick the spoon right off the bottom while it's just lying there. I cast the spoon and let it sink to the bottom, then start shaking the rod tip lightly to make the spoon dance a little bit, but not enough so it jumps off the bottom. Then I pause and wait for a bass to pick up the spoon. Feel the little peck, set the hook."
If no pick up occurs, Stuyvesant drags or slow rolls the spoon along the bottom for couple feet much like dragging a tube. When he pauses, he shakes the spoon again. He repeats the shake-pause- drag-shake-pause all the way to the boat.
"You can drift the open lake with spoons and blades, but with zebra mussels covering the rocks, snagging is a constant problem with treble hook baits. I prefer to reserve the blade and spoon for situations when I've found bass holding on structure, and rely on the tube for drifting."
Spring
Source: www.bassresource.com
Share this Post
Related posts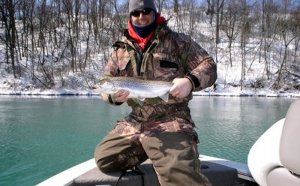 DECEMBER 08, 2023
Now offering perch trips in April & afternoon walleye trips Call for availability 716-837-5649 Lake Erie Fishing Smallmouth…
Read More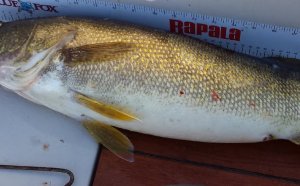 DECEMBER 08, 2023
MARBLEHEAD, Ohio - Fisheries Biologist Chris Vandergoot of the Ohio Division of Wildlife s Sandusky Fisheries Research Unit…
Read More