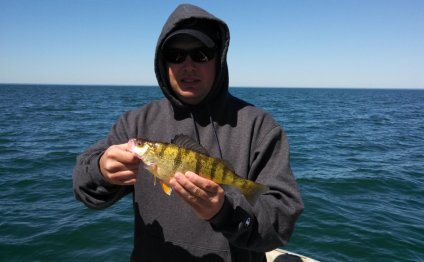 Perch fishing on Lake Erie
CLEVELAND, Ohio – When Labor Day rolls around, a Lake Erie fisherman's fancy often turns to schools of chunky yellow perch moving in along the shoreline. The perch are most plentiful in spring and fall, and a favorite for generations of area anglers.
When perch put on the feedbag and gobble every emerald shiner minnow dunked in their vicinity, Lake Erie is a wonderful fishery, especially for young anglers. The tap-tap-tap of a biting perch is easy to detect and daily limit is a liberal 30 perch a day.
Die-hard perch fishermen want jumbo perch. They weigh about a half-pound after growing to a foot, or more, in length. They'll put up more of a tussle, are easier to fillet and can earn bragging rights back at the dock.
Three of the best Lake Erie locations for rounding up an impressive limit of yellow perch this fall are Lorain, Fairport Harbor and Conneaut.
Holy Moses! Lorain perchin' is hot
The late Charles Thomas of Lorain set the Ohio perch standard here on April 17, 1984 with a 2.75-pound, 14.5-inch jumbo. Yonkers rates the dumping grounds just north of Lorain Harbor, the waters off St. Anthony's Church on the east side of Lorain and the waters just west of Lorain Harbor as top perch spots.
"To catch lots of perch you have to pay attention to your graph (sonar equipment), " Yonkers said. "Fishermen target perch close to the bottom and complain when they aren't there. The other day, our rigs had to be four to six cranks of the reel handle off the bottom to catch suspended perch.
"I like the fishermen on my boat to start the day at various depths. One will lower his rig to the bottom while the others suspend their rigs at different depths. It helps get a consistent perch bite going."
Non-stop perch fishing at Fairport
"The fishermen who went out early called in to tell us the perch were biting non-stop, " said Don Moore at Harbor Bait & Tackle in Painesville on Friday afternoon. "They started in about 37 feet of water and the perch were biting, but small. They moved out to the 54- to 61-foot depths and found the jumbos."
The Hump, where the bottom of Lake Erie quickly rises from 55 to 35 feet deep about a mile and a half northwest of the mouth of the Grand River, attracts plenty of baitfish, yellow perch and a fleet of perch boats.
"Surprisingly, the last few days the perch fishing has been best straight north of Fairport Harbor and just to the northeast, " said Moore. "There were plenty of small perch in about 40 feet of water, with the jumbo perch concentrated in about 55 feet.
PC Queen targets Conneaut perch
Perched in the northeast corner of the Buckeye State, Conneaut lures late-summer walleye and yellow perch fishermen to the fertile deeper waters of Lake Erie. Anglers have to run a bit further offshore – about 5 or 6 miles right now – to catch perch, but it's worth it.
The only thing that will keep the PC Queen at the dock, said Mills, is winter weather. He expects to be ferrying perch fishermen to schools of jumbos until the middle of October.
Salt your minnows
Lively emerald shiner minnows are a mainstay for catching yellow perch, although many of us old-timers used to bait our hooks with worms and still find success. Shiner minnows cost about $2.30 to $2.50 a dozen. Worms could be picked from the garden or yard.
Many bait dealers now stock salted, frozen shiner minnows. They're much cheaper, at $1 to $2 a dozen. Mills, Moore and Yonkers say they're just as good as any minnow swimming in a bait bucket, and easier to pin on a hook.
Moore spreads minnows on a newspaper and sprinkles salt on them both before and after letting them dry a little bit. Yonkers prefers granulated corn meal, which keeps the minnows from sticking together in the freezer. If minnows thaw on the boat and get mushy, Yonkers puts them on the boat's gunwale to dry in the sun and become as tough as leather.
Find success casting from shore
Pier and breakwall anglers once dominated the Cleveland shoreline, but only because few fishermen owned powerboats a half-century ago.
"There are a lot of big perch to catch from shore, but it's hit or miss, " said Yonkers. "And the gobies will eat you alive in the shallows. If there is a strong southwest wind blowing and you're willing to wade through the bait-stealing gobies, you can take home some perch - and sometimes the big ones."
Source: www.cleveland.com
Share this Post
Related posts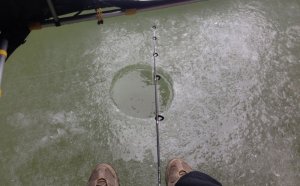 DECEMBER 08, 2023
​The sure thing may very well be the best thing, but it's certainly not the only thing. Don't bother trying to decode that…
Read More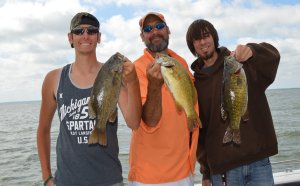 DECEMBER 08, 2023
Staff Reporter Lake Erie fishing was good early this week, but rough conditions and heat held down the number of boats on…
Read More