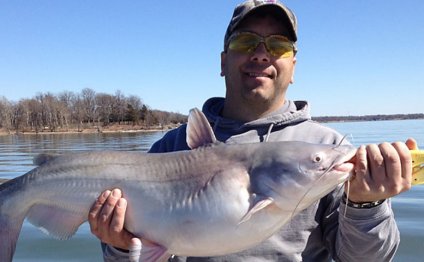 Grand Lake St. Marys Fishing Report
GRAND LAKE ST. MARYS, OHIO'S LARGEST INLAND LAKE, is the gateway to fishing, boating, swimming, biking and camping. Over 13, 500 acres of surface water await the ardent angler. Excellent catches of crappie, catfish, bass, bluegill, as well as yellow perch in the winter are found in GRAND LAKE ST. MARYS. Boats with unlimited horsepower are permitted on the lake. Five state operated launch ramps also exist along the shallow shoreline. Fuel, boat rentals and seasonal dock rentals are available.
Grand Lake St. Marys St. Park
Constructed as a feeder lake for the Miami-Erie Canal, Grand Lake St. Marys, at its completion in 1845, was the largest man made lake in the world. The feeder reservoir was formed by raising two walls of earth, from ten to twenty-five feet high, called the East and West embankments. These walls formed a high basin to retain the water. The reservoir rests on the summit between the Ohio River and Lake Erie. Now Ohio's largest inland lake, Grand Lake St. Marys is a prime recreational area offering a variety of activities for the whole family. With over 13, 500 acre and 52 miles of shoreline (much of it accessible to the public), Ohio's Other Great Lake provides many opportunities for picnicking, swimming, fishing, boating, skiing, tubing and camping at Grand Lake St. Marys State Park.
Boating
Grand Lake St. Marys is open zoned for skiing and has unlimited horsepower for power boating. A 300 foot "no wake" zone provides for safety and shoreline protection. There are five state operated launch ramps providing boaters access to the lake. Private launch ramps are also available at marinas along the shallow shoreline. Sailing and jet skiing are very popular on this grand lake.
Fishing
Fishing is a year around affair on Grand Lake St. Marys. Since the lake is shallow (average 7-9 ft. In depth), it warms quickly in the spring activating large mouth bass and large catches of bluegills and crappies. There are professionally run and organized fishing tournaments held every year. The lake is considered one of the finest "pan fishing" area's in the state, with good populations of crappie and yellow perch. Walleye fry and fingerlings have been stocked and a significant walleye population is developing with good sized walleye reported being caught. Also check out the latest Video Episode of Brush Pile Fishing.com (on Grand Lake) Catching Crappie On Grand Lake!
Grand Lake St. Marys lies along one of the country's major migration routes. Water birds using the lake as a resting stop include Canadian geese, ducks, grebes, swans, egrets, loons, herons, cormorants and ospreys. Many ducks, eagles and herons also nest at Grand Lake St. Marys. Currently the lake also boasts three nesting pair of bald eagles along the south side. Veteran eagle watcher Jill Bowers reports the newest nesting pair is 3 ½ to 4 years old. This is probably their first nesting season, according to Jill, so they are not very experienced at raising eaglets.
The veteran pair has again selected the nest in the Mercer Wildlife Area, using the same nest for the past two years where they have hatched triplets both years. The third pair has chosen to nest in a nature park area in Franklin Township.
Source: www.seemore.org
Share this Post
Related posts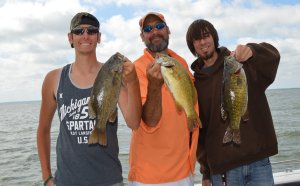 SEPTEMBER 25, 2023
Staff Reporter Lake Erie fishing was good early this week, but rough conditions and heat held down the number of boats on…
Read More
SEPTEMBER 25, 2023
Alum Creek Lake (Delaware County) – As water temperatures decrease, the crappie bite has increased. Use a jig and minnows…
Read More